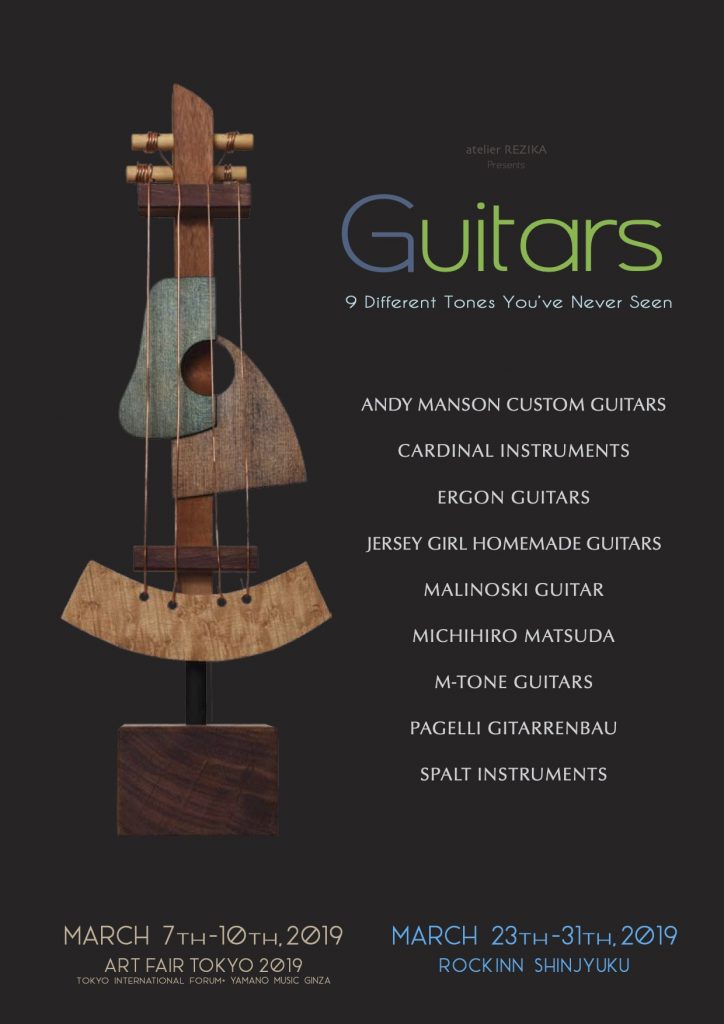 Guitars – 9 Different Tones You've Never Seen
9 makers / Guitars : Andy Manson Custom Guitars. Cardinal Instruments. Ergon Guitars. Jersey Girl Homemade Guitars. Malinoski Guitar. Matsuda guitars. M-tone Guitars. Pagelli guitars. Spalt Instruments.
I had invited the group exhibition at Tokyo 2019. It was organized by Jersey Girl Homemade Guitars at Hokaido Japan, and Daisuke Ushiku at atelier REZIKA (art gallery in Tokyo). We exhibited our guitar at the galley booth of REZIKA in Art Fair Tokyo 2019. Flowing it, we had showcases at Yamano Gakki Ginza and at RockInn Shinjuku.
Here is the statement by Kazu Goto at Jersey Girl Homemade Guitars.
There are artisans that are called Luthiers who make stringed musical instruments with their superior skills and individuality.
It is the group exhibition of 9 makers. The theme of this exhibition is defining the meaning of guitars as musical instruments in the context of art, with 9 makers here in such a criteria.
I think that it is not from the discussion about "guitars should be an art or not", it is for presentation of the redefining the meaning of guitars as canvases in art.
You can see this movement already in "The Holy Grail Guitar Showcase" and "Boutique Guitar Showcase" etc.
I hope this event can not only help to open the gate to new markets for luthiers, but will also help to make new path for redefining guitars for luthiers, artists, and all who are looking for new definition.