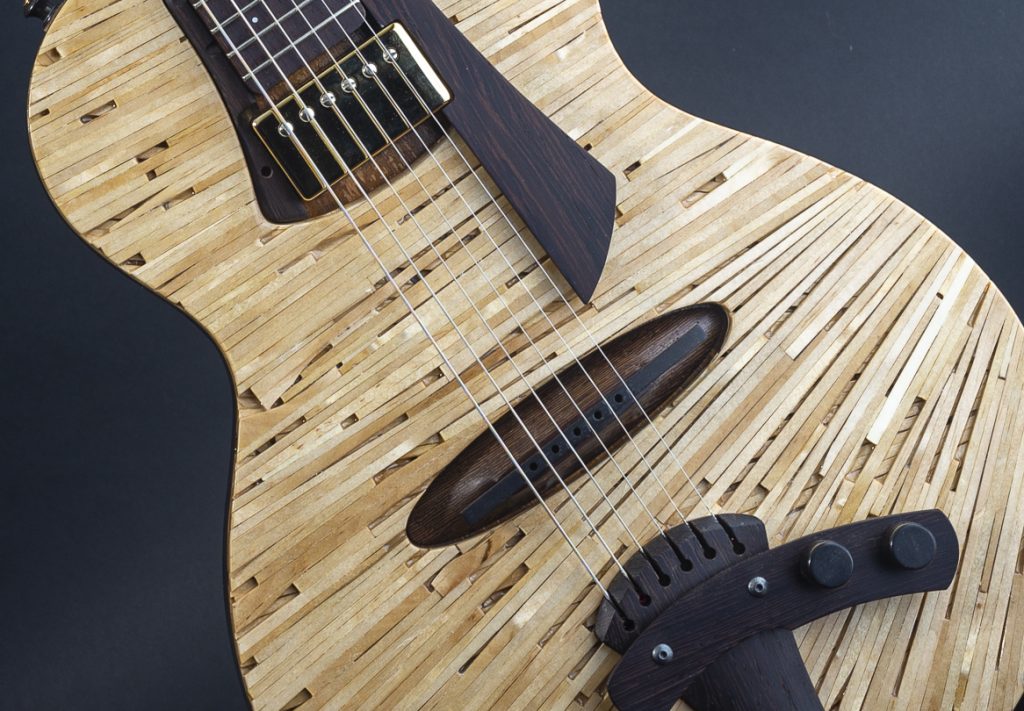 The guitar used to be called broken Les Paul copy that I found on a local Craigslist
Matsuda No.125A. Recycle, Art, Guitar project
Top face: used chopsticks from a local sushi bar.
Soundboard: The actual soundboard as acoustic sound producer is underneath of the top face. I made this from a broken piano soundboard. (There is the brand name on its face. It is from Chickering and Sons' Pianos. They were a high quality piano maker in Boston. serial No.69300 or 69308.)
Neck and Body: Unidentified broken Les Paul copy guitar that I found in local Craigslist.
Sound Reflector: The sound reflector at back is made from a broken kitchen table.
It is acoustic electric guitar. it doesn't have acoustic box, but it has acoustic sound board. The actual soundboard is located under chopsticks top face. There is a narrow open space between top face and the soundboard. The arch top style bridge is set on soundboard. Instead of having acoustic box, there is sound reflector located in the back. The center of the body is hollowed out. I did not have any intended tonal character to achieve on this guitar. I just liked to accept whatever sound come out. I am interested to see what sound come out from these recycled materials.
Recycle, Art, Guitar
Recycle, Art, Guitar .
Researching nontraditional alternative wood for guitars, using recycled, reclaimed lumbers for guitars has been getting attention. On the other hand, it is not often for us as makers to talk about recycling already manufactured guitars. Including electric and acoustic, many guitars are produced and sold in the world. And Majority of production guitars on our market are inexpensive. They are decent quality and good value for beginners and students.
When you maintain them well and repair them when necessary, guitars are playable for long time. However, because of these inexpensive prices, they are not likely to be maintained and repaired. The repair costs would be more than buying new guitars in many cases. I have been wondering how many guitars are wasted, forgotten, and abandoned.
For this project, the first thought that came to my mind is how I can make something "new" out of broken guitars, instead of repairing them. In other words, how I can add new value to unusable guitars? It is the project which combines "recycle" "art" and "guitars". Also " identification" is another interesting aspect in this project. I intentionally recycled a broken Les Paul copy guitar (body and neck) as representation of iconic guitar identity. Then I intentionally did not alter this original LP copy guitar body shape, neck shape, and finish. Therefore, the new guitar shape is going to be the same as Les Paul guitar shape. What I want to do here is ask a question, which is that "Am I recycling Les Paul design as a part of recycle project? (can I recycle established design?) Is it artistic expression? Or is it just copy?"
I don't have the answer yet.